Heroes Supporting Heroes

All donations help us to support our actively serving military and veteran local families all year long. A $25 donation can sponsor a military child's wishlist for Christmas!
Now Available Monthly Donation Subscriptions! Show your support of our local military and veteran families all year long!
$25 Monthly Donation Subscription
$50 Monthly Donation Subscription
$100 Monthly Donation Subscription
$200 Monthly Donation Subscription
Our Mission
The mission of Heroes Supporting Heroes is to meet the basic life needs of others through:
Seeking to bear one another's burdens
The foundation of HSH began with serving those in military uniform (past, present & families)
Leveraging the gifts of our Servant Heroes
As our ranks grow with more gifts, we will continue to seek ways to maximize them
Everything from technical trades to hard-working individuals wanting to help others will shape our service offering
Serving for the greater good
We seek to maximize the impact to our local communities by sponsoring the West Allegheny Workcamp and other projects to improve the lives of our neighbors and support our active and veteran military family community.
---
Allegheny WorkCamp Applications Now Open!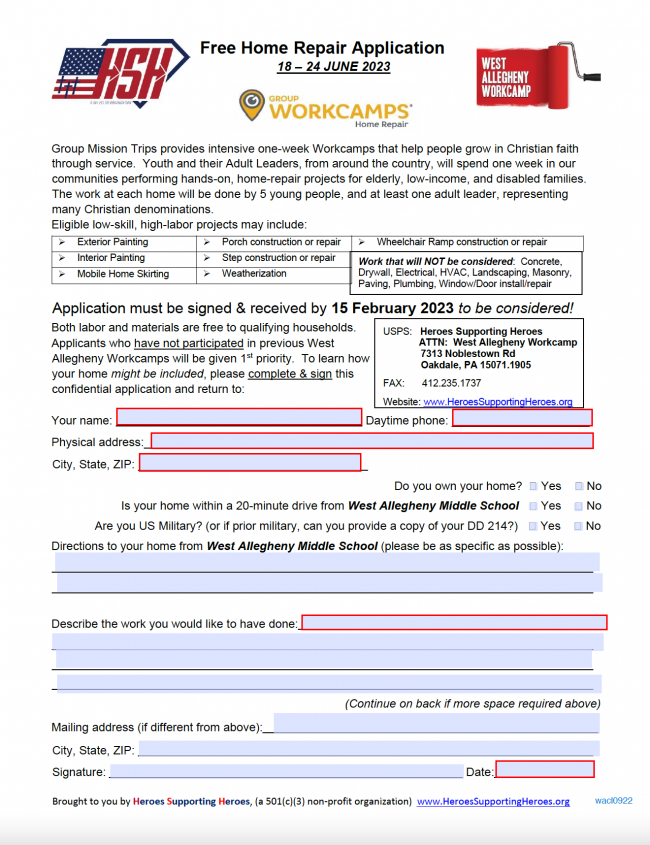 Operation Santa 2022 - GROUNDED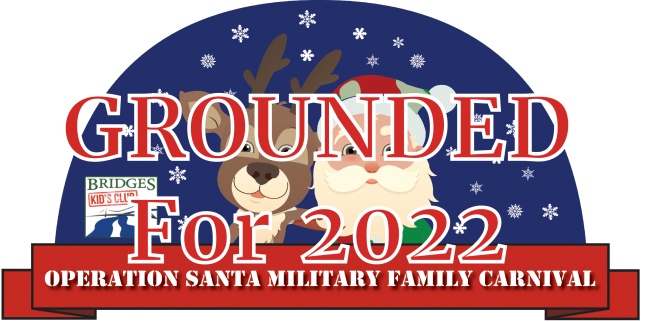 It is with a heavy heart that we have to announce that unfortunately due to lack of support from the corporate and civlian community, for the first time in 9 years we are unable to hold Opeartion Santa Joint Forces Military Carnival in it's traditional format.
We were unable to secure a large enough space for the 2 months it requires to setup the event and we were unable to raise the money to host the event. Last year we also struggled mightily with volunteers - with a tiny team of only 5 people who delivered the massive event working 18 hour days for weeks. The day of the event we had so few volunteers we had to have one volunteer running more than one station. We also struggled with getting the public to adopt military child wishlists for $25, for the first time ever we could only fill 1/3rd of the wishlists and had to use event budget to fill the remaining lists.
Struggling with space, funding, volunteers, wishlists and prices rising with current inflation every one of those hurdles became insurmontable. Until there is more support for this event that serves over 3,000 military families in the tri-state area, until we have more people willing to get involved in fundraising and helping to plan and execute all year long, which is what it takes to deliver this event, Operation Santa will not be able to continue.
We are working on another much smaller event for the weekend of December 17th. If we are able to come through with something small, we will post information here.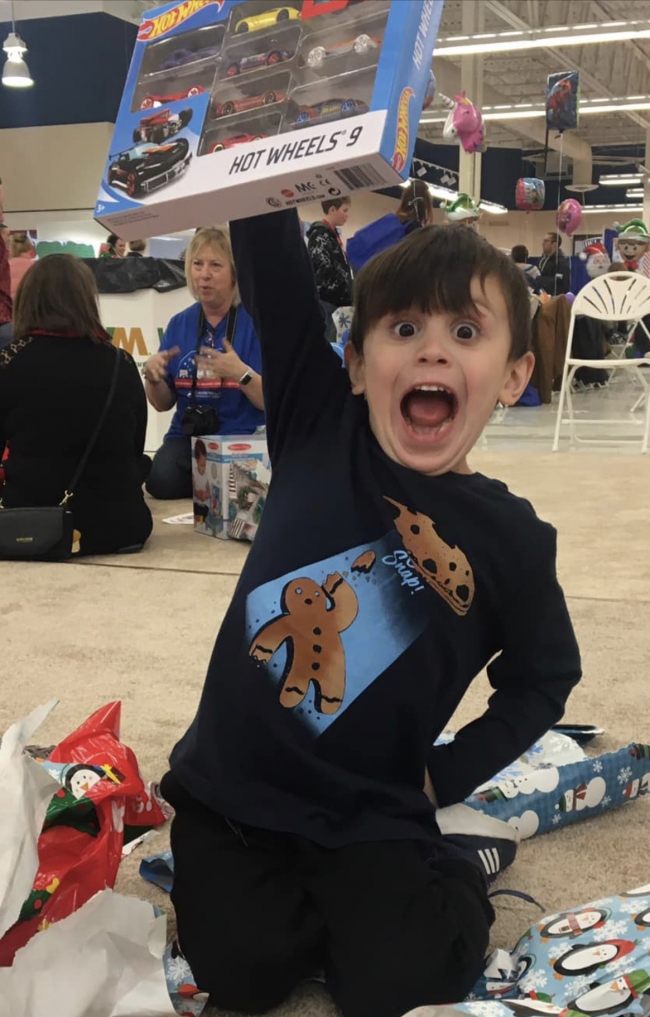 ADOPT A VETERAN FOR VETERANS DAY - MISSION ACCOMPLISHED!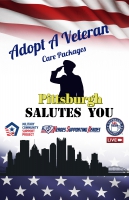 Covid-19 has changed a lot for everyone but nobody more than our elderly population who is at the greatest risk. As with most public events, Veterans Day recognition events have been cancelled for 2020. We want to insure that our veterans know we have not forgotten them and appreciate their service. We have partnered with tThe Military Community Support Project and the 3 Rivers Wealth Management Bridges Kids Club to send care packages to veterans in recognition of Veterans Day. This includes the VA Hospital, assisted living facilites and home bound veterans.
Thanks to our partners at the Pittsburgh Penguins Foundation, Pirates Charities, My Favorite Sweet Shoppe and USAA we were able to successfully pack and distribute over 500 care packages to veterans in assisted living facilites, the VA Hospital In Oakland and in their own residences. See more of our story covered by Kym Gable at KDKA Pittsburgh Salutes You - On A Positive Note Story
Current Fundraising Efforts
Southwestern PA is one of the largest veteran communities in the country and also is the home of military installations for every branch of service. Thousands of local service members are deployed around the world each year. Our goal at Heroes Supporting Heroes is to provide much needed support to our veteran, military and senior citizen community. Many of our supporters and volunteers choose our 501c3 as a meaningful place to ask friends and family to donate in memory of a loved one who was passed away in lieu of flowers.
A monthly $10 donation plan or $150 one time donation helps us to complete important support such as regular grass cutting/snow removal for disabled veterans, senior citizens and the family of deployed service members. A monthlly $25 donation plan or $300 one time donation helps us to complete larger projects such as home repairs, constructing of wheelchair ramps and appliance replacement for veterans & families of deployed service members. For example recently the wife of a deployed soldier with 3 young children had their washing machine breakdown and could not afford to replace it or repair it. Thanks to the support of our community we were able to send a volunteer who the wife felt comfortable having in her home and when the cost of the repairs would exceed the cost of the washer we were able to purchase a new washer for the family. This truly helped to take the burden of worry off our soldier on deployment, that we were able to help his family while he was away.
Our support of our local military and veteran community relies completely on the support from our community and 100% of our funding is used locally in Southwestern Pennsylvania.
If you would like to sign up for a monthly giving plan or a one time donation in memory of a loved one, please click the link below. We are also happy to provide personalized graphics with photos and names to be shared on social media or at memorial services. Please contact kristihilbert@heroessupportingheroes.org for more information.
FOR VA BENEFITS & IMPORTANT INFORMATION PLEASE VISIT Pittsburgh Regional VA
---
---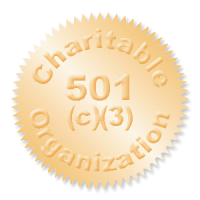 HSH is proud to be approved by the IRS as an independent, tax-exempt 501(c)(3) charitable organization! We have been blessed to have had West Allegheny Ministerial Association as our Fiscal Sponsor until now as that allowed HSH to operate as a non-profit organization.
What is especially important is that now our grant opportunities will expand as this will allow HSH to qualify with more organizations than we could have before!
---
Proud Sponsor of: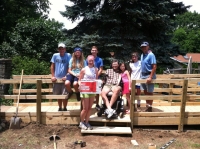 What is a Workcamp? Workcamps are week-long home repair mission trips for junior high and high school-aged youth. These trips are high-energy, action-packed yet meaningful and life-changing for the youth involved, their adult leaders and the volunteers who make the camp possible!
At the West Allegheny Workcamp, youth groups, from across the country, will come together to serve our community and residents, while building strong, lasting relationships with their friends and youth leader. In five short days, hundreds of youth group members will rebuild and transform households while strengthening and transforming their own faith.
WEST ALLEGHENY WORK CAMP INFORMATION