Back to News
Free Admission at 2000+ Museums Nationwide for Military Families As Part of Seventh Year of Blue Star Museums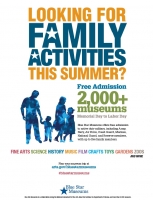 May 26, 2016 Washington, DC— NEA Chairman Jane Chu and Blue Star Families CEO Kathy Roth-Douquet announced the seventh annual launch of Blue Star Museums, a collaboration among the National Endowment for the Arts, Blue Star Families, the Department of Defense, and more than 2,000 museums across America to offer free admission to the nation's active duty military personnel including National Guard and Reserve and their families from Memorial Day through Labor Day 2016.
The program also provides families an opportunity to enjoy the nation's cultural heritage and learn more about their new communities after a military move.
The complete list of participating museums is available on the Blue Star Museum web section.
"The Blue Star Museums program is a fun, free activity for military families to enjoy during the summer months," said NEA Chairman Jane Chu.
"The program is also a great way for service member families to connect to their new communities, and it can provide a meaningful way for families to reconnect after deployment. The Blue Star Museums program is also a perfect way for the arts community to say 'thank you' to our service members and their families for the sacrifices they make on our behalf, every day." "Blue Star Museums has grown into a nationally recognized program that service members and their families look forward to each year," said Blue Star Families Chief Executive Officer Kathy Roth-Douquet. "It helps bring our local military and civilian communities together, and offers families fun and enriching activities in their home towns. We are thrilled with the continued growth of the program and the unparalleled opportunities it offers."