Back to News
Heroes Support Network Joins Forces With Team Red, White & Blue Pittsburgh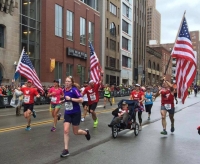 Team Red, White & Blue (RWB) and The Heroes Support Network spearheaded an effort arranging unique accommodations for Army veteran Donald Phillips to complete the Pittsburgh Half Marathon. The team is happy to report success and Phillips crossed the finish line on Sunday around noon.
In a country known for taking it's time to service the needs of veterans; Jim Yauger stands out as a man with a mission who takes action and gets it done. Jim serves as the Chapter Captain for Pittsburgh's Team RWB. About 10 days before the event, he began his search for a special wheelchair to borrow for this weekend's marathon. He first reached out to Kristi Hilbert, the director of Heroes Support Network. While she didn't have the immediate resources he needed, she tirelessly worked local resources. Due to the level of specialized chair needed and the customizations based on the rider's measurements, a rider's chair for a marathon are extremely expensive and difficult to come by - especially within such a short time frame. When local search efforts failied she began calling national organizations. She was eventually able to connect with Ronald J. Robb CEO of myTeam Triumph, an athletic ride-along program created for those with disabilities who would normally not be able to experience the thrill of crossing the finish line at a triathlon or road race. While Jim awaited a response to see if Team Triumph could help, he contacted Azalea Charities, Inc. who aids wounded warriors and supports youth and special needs projects in the northern Virginia area.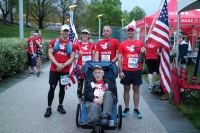 Within days, with the help of all three aforementioned groups, the team was able to locate a specialty running wheelchair at no cost (compliments of myTeam Triumph in Michigan,) have it shipped to Pittsburgh (shipping costs courtesy of Azalea).
Jim and his team tracked the chair's course like kids listening to Santa's radar on Christmas Eve. It arrived in Pittsburgh with plenty of time to spare, the day before the race. "When we first learned of Mr. Phillips's desire to participate in the event, and that a Team of our Eagles were willing to sacrifice their race experiences to make his extremely special, we knew we had to find a way to make it happen," commented Jim. "We left no stone unturned to find the right type of chair for Mr. Phillips to use. Fortunately, we have great partner organizations here in Pittsburgh like the Heroes Support Network that we can turn to make something like this come to reality. We also have to give a big thank you to Azalea Charities, Inc. who stepped up to assist us with the shipping costs for the chair. The efforts put into this by all parties involved are remarkable and it truly embodies what Team RWB is all about."
There is an unavoidable, serendipitous nature to this unique collaboration of organizations. While Team RWB's members are affectionately known as "Eagles" due to their strong values of passion, positivity, people, commitment, camaraderie and community or Eagle Ethos, myTeam Triumph refers to the athletes who have the honor of pushing and pulling the chairs on the course as their "Angels." This weekend, three "Eagles" from Team RWB will be Donald Phillips' "Angels." Call them what you will, Sean MacMillen from Mill Hall, PA, Mary Kreis from Belle Vernon, PA and Mike Goodwin, the team's Community Outreach Director from Plum, PA soared, floated and flew alongside of Vietnam veteran Donald Phillips, helping him to achieve his goal of completing this historic marathon.
Great things happen when we all work together. Come and join us, volunteers are always welcome! If you are a veteran visit the Support Services page and utilize our searchable database for community involvement opportunities such as Team RWB and Heroes Supporting Heroes. If you are a civilian click the blue "Volunteer" button at the bottom of the page. Together we CAN and DO make a difference!