Back to News
Heroes Support Network Launches at Steel City Salutes The Troops
November 2015 - HEROES SUPPORTING HEROES TO LAUNCH NEW WEBSITE TO CONNECT, INFORM AND SUPPORT LOCAL MILITARY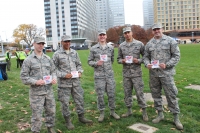 Heroes Support Network goes live November 7th, during Pittsburgh's Veteran's Day Parade and Steel City Salutes the Troops event
With more than 500,000 active, reserve, retired and veteran military service members and their dependents within 60 miles of the city, Pittsburgh is known nationwide for its prominent service member community. The launch of the Heroes Support Network will provide Pittsburgh with a unique virtual community center designed to connect local military families with the civilian and business communities in Pittsburgh.
The Heroes Support Network was developed through the Air Force Community Partnership, a national initiative based locally at the 911th Air Lift Wing in Coraopolis. Local, state and federal government representatives, businesses and all levels of military members from every branch of the service participate in this ongoing partnership initiative, designed to connect local businesses and civilian communities with the local active and reserve military bases.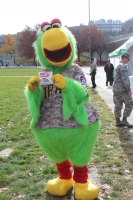 The Heroes Support Network virtual community center was built following focus group market research conducted with active duty, reserve, retired and veteran service members, military spouses and families, civilians, business owners and military support organizations.
Kristi Hilbert, the chair of the Air Force Community Partnership Committee leading the project development and current Director of the Network explained, "For the partnership members, it was extremely important for us to build the virtual community center to inclusively meet the needs and desires of each of these respective groups in our local community.
The Heroes Support Network is more then just a listing of services, it is an interactive centralization of all service support local to Pittsburgh as well as a way for the civilian community to become educated about how local military bases contribute to national defense.
The Network will list hundreds of local military discounts and partner support services including special programs offered by local Pittsburgh companies for housing, finances, auto, health and wellness, travel, entertainment, professional sports teams and much more. In addition, the Network features an interactive search tool that allows users to quickly identify which of the almost 200 veteran support organizations in Pittsburgh they qualify to utilize based on non-identifying aspects of their service record, such as their branch of service and theaters of deployment.
The Network also includes chat forums, a community calendar, news, social media feeds and ways for both civilians and service members to volunteer in the community.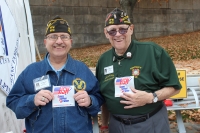 Colonel Jeff VanDootingh, Commander of the 911th Airlift Wing said, "The Network was born from a brainstorming session on how we can bridge the gap between our military and civilian communities. The Network provides beneficial information for all parties and streamlines everything from educational and medical services to community events and so much more. The goal was to make it a win-win for both service members and civilians and we're proud to say 'mission accomplished.'
The Heroes Support Network is owned by local 501(c)(3) Heroes Supporting Heroes which is an all volunteer organization that provides stable and safe housing for military members and their families as well as senior citizens and others in need.
The Heroes Support Network will launch on Saturday, November 7th at the Steel City Salutes the Troops event at Point State Park, following the Veteran's Day Parade. The event is being hosted by the Association of the United States Army, which anticipates 12,000 – 15,000 people in attendance. Civilians and service members that sign up as free users of the Network, which will be on display at the event, and like and share the Facebook page will be entered to win a variety of prizes, including an Xbox One gaming system and an iPad.
Local businesses interested in showing their support of the Pittsburgh Service Member community, please contact Kristi Hilbert, Director of the Heroes Support Network by email or by phone.