Back to News
Heroes Supporting Heroes Selected As The Pittsburgh Pirates Military Charity of The Game For 7/21/16.
Pittsburgh Pirates Select Heroes Supporting Heroes As Military Charity Of The Game For July 12th Match Up With The Brewers.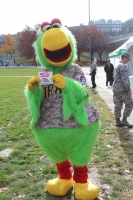 The Pittsburgh Pirates name each Thursday home game as a Military Appreciation Night to honor our United States military service women and men. Programming raised awareness and provided financial support to American military personnel, veterans, and their families through collaborations with military non-profit organizations in the Pittsburgh region.
Heroes Supporting Heroes has been selected as the Military Charity Of The Game for the July 21, 2016 game. As an honoree, HSH will receive pre-game on-field recognition and receive complimentary suite tickets to the Pirates Charities Luxury Suite. That day's game proceeds from the Pirates Charities 50/50 will also be donated to Heroes Supporting Heroes . Also, the Pirates players, coaches, and BUCCO-Brigade staff showcased their support by wearing specially designed camouflage uniforms and apparel.
Come out and join us on July 21st to show your support for Heroes Supporting Heroes and cheer on the Buccos!