Back to News
New C-17 Squadron Could Secure Future of the 911th Air Lift Wing in Coraopolis
By Tracie Mauriello / Post-Gazette Washington Bureau WASHINGTON — May 18, 2016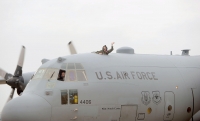 Congress is working this week on a sweeping military appropriations bill with important implications for the 911th Airlift Wing's long-term survival at Pittsburgh International Airport amid perpetual threats of base closures.
But President Barack Obama already is threatening to veto the $602 billion bill over concerns that it would shift $18 billion in wartime spending to pay for weapons and troops the Pentagon didn't request.
There's no objection, though, to the part of the bill providing $85 million for the 911th, which was included in Mr. Obama's budget and has been supported by Pennsylvania lawmakers, Republican and Democrat alike.
"No one has a problem with this part of the bill. That's certainly not the controversial part," said U.S. Rep. Mike Doyle, D-Forest Hills.
The $85 million would be used to upgrade airport infrastructure so the airlift wing can accommodate a squadron of C-17 cargo planes, allowing the Air Force to phase out smaller and aging C-130s based there.
The wing commander, Col. Jeffrey Van Dootingh is confident that approval will come eventually, and when it does he'll be ready to start making changes. Construction plans are already in the works, although no "irreversible" changes will take place until Congress gives final authorization and the president signs off. The funding bill is likely to head to a conference committee, where senators and House members will work out their differences on the military-wide spending plan and look for an agreement that the president will sign.
Mr. Doyle and U.S. Rep. Tim Murphy, whose district includes the base, are confident that the agreement will include funding to help the 911th shift its mission. C-17s are larger than C-130s and require bigger crews to operate and maintain.
The 911th expects to get about 300 more full-time military and civilian workers, doubling the number there now. That's crucial because bases with fewer than 300 full-time employees can be shut down without congressional approval, something that the 911th has been threatened with numerous times in recent years.
"What this does is really solidify the base's future. It can't be subjected to [Base Closure and Realignment Commission] closure anymore," said Mr. Murphy, R-Upper St. Clair. "The main thing this does is give more stability for the base."
The C-17s are expected to be transferred from Joint Base Lewis-McChord, Wash., and Joint Base Charleston, S.C., in 2018. As for the C-130s now at the 911th, some are expected to be taken out of service while others could go to other bases yet to be determined, Col. Van Dootingh said. Nearly all personnel currently at the 911th will remain, although some may choose to transfer to other units to continue to work on C-130s, he said.
"My top priority is to find a way for every airman who wants to continue to serve their country to have a way to do that," Col. Van Dootingh said. "I will only consider this a failure if a reservist of mine wants to continue to serve and at the end of the day we can't make that happen. … I'm confident we will find a place for every single one."
The broader defense bill includes a 2.1 percent pay raise for the troops, adds aircraft, maintains a ban on moving prisoners held at Guantanamo Bay, provides training and equipment for rebel groups and government forces fighting the Islamic State in Syria and Iraq and calls for a minimum of 9,800 troops to be deployed in Afghanistan (3,300 more than the White House wants there).
Washington Bureau Chief Tracie Mauriello: tmauriello@post-gazette.com; 703-996-9292 or on Twitter @pgPoliTweets. The Associated Press contributed.