Back to News
Site Activation Task Force Signals Developments in 911th AW Mission Change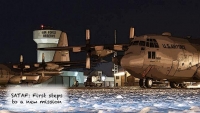 PITTSBURGH INTERNATIONAL AIRPORT AIR RESERVE STATION, Pa. (By Lt. Jacbob Morgan -- In February, President Barack Obama announced his President's Budget, which included a provision of $85 million for the 911th Airlift Wing to change missions from a C-130 Hercules tactical airlift to C-17 Globemaster III strategic airlift.
Since the announcement, the House of Representatives and the Senate have drafted working copies of the National Defense Authorization Act for 2017. Without changes, the final bill would include the $85 million, which is slated for a new dual-bay hangar, concrete improvements on taxi-ways and ramps and a new fuel hydrant system. The bill has not yet been signed into law.
On Aug. 2, 2016, approximately 40 members from various Air Force entities and aerospace contractors came to the 911th AW as part of a Site Activation Task Force, which is the first boots-on-the-ground step in making the mission change a reality.
"The big picture here is that the Air Force is looking for an increase in strategic airlift capability," said Mark McUmber, the C-17 and C-5 program element manager with Air Force Reserve Command. "The mission change is an incredible challenge, but Pittsburgh has the people to do it." More importantly, the team is here to refine the infrastructure, support and manpower plans, said McUmber.
At the same time, the team has to make sure they do not do anything irrevocable as the NDAA is not signed into law yet. The 40 members, coming from headquarters AFRC, Air Mobility Command, the 22nd Air Force, 4th Air Force, Boeing and L-3 communications, were teamed up with local experts at the 911th AW to discuss some hard-hitting issues, such as aircraft movement, funding requirements and timeline. The teams were separated by subject, for example, one group specifically worked mission support and manning while another group discussed logistics.
The teams only had three days to solve the majority of the initial problems with a project meant to completely revamp operations at the 911th AW. At the end of the each day, each group brought issues and progress to the entire team, comprising approximately 100 members. "The daily integration meetings are really where everything comes together," said Steve Miner, Air Force Reserve Command strategic basing senior policy analyst and former 911th Force Support Squadron commander here. "With only three working days to really get into these issues, airing issues out for all to hear and working together as a team has solved a lot of problems." By the end of the SATAF, more than 100 line items were identified as problems to be solved.
The team plans to visit within the next year, but the line items will be worked continuously between each of the entities involved. "I am very pleased that we are kicking off the mission change in the right way," said Col. Jeff Van Dootingh, commander of the 911th AW. "We started early enough to minimize the timeframe for the change, put a minimum amount of stress on our members and be able to deliver strategic airlift for the country in the future when called on."