JUNIOR HEROES SCHOLARSHIP
JUNIOR HEROES SCHOLARSHIP!
Congratulations to our first Junior Hero Scholarship Winners Alex Hilbert & Tanner Zissis!
Heroes Supporting Heroes and 3 Rivers Wealth Management Group are proud to announce the recipients of the first annual JUNIOR HEROES SCHOLARSHIP, presented to High School Seniors who have worked to make a difference, giving back to our community and country. Alex Hilbert & Tanner Zissis founded the TRWMG Bridges Kids Club over 7 years ago to honor a fallen Navy Seal. Watch the video to see the amazing story and how their one random act of kindness inspired thousands of people and grew an organization of kids volunteering their time with over 400 members and counting.
You can see their inspirational story here - JUNIOR HEROES SCHOLARSHIP WINNERS 2020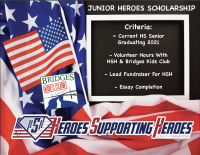 The goal of this scholarship is to recognize the contributions of a High School Senior to the support of our local military community through both the TRWMG Bridges Kids Club and Heroes Supporting Heroes.
To be eligible current seniors need to have volunteer hours with both organizations. For example Operation Santa and our deployment support projects - are joint projects that count toward time at both orgs. Cutting grass for deployed service members or veterans, helping out on a project site, volunteering for event setups and breakdowns - are examples of volunteer hours available.
Applicants also must have led a fundraising effort for HSH. This can be as simple as running a Social Media Virtual Birthday Fundraiser, selling candy or doing something larger like leading a virtual 5k run or event or doing a project for either organization that results in financial savings to either organization. A good opportunity is currently available with our Adopt A Veteran project - a senior could lead an effort to meet a goal of getting 50 veterans adopted. Obviously the more effort put into the fundraiser, the better it looks to the selection committee.
Volunteering and leading fundraising efforts are also excellent examples of leadership and community service for college applications in general.
We will begin taking applications for our Junior Heroes Scholarship from 2021 Seniors in April but there will be a lot of volunteer opportunities coming up in the next two months that will meet requirements. If anyone has questions or wants to start a fundraiser or other idea - we will work with anyone on imaging and promotion. Shoot us a message.
The number of scholarships and amount will be determined by the selection committee based on the number and quality of applications and how much funding is raised over the course of the year. For example this year - we gave (2) $1500 scholarships.
If you are a business owner and would like to know more about becoming a one of our Business Heroes, please click HERE to send us an email and we will be happy to contact you to provide more information.