OPERATION SANTA 2020 REGISTRATION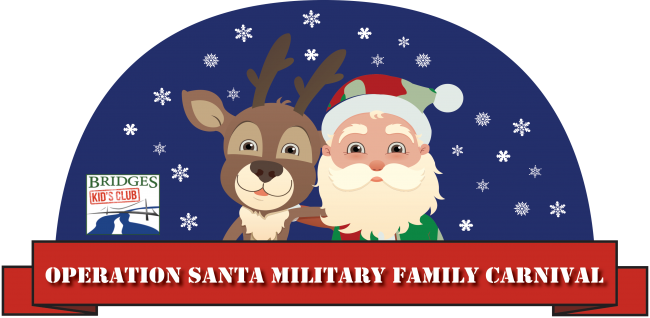 OPERATION SANTA 2020
December 12th
2 Hour Shifts Between 10am - 6pm
PLEASE READ BEFORE SENDING QUESTIONS!
***PLEASE NOTE THIS IS A BRAND NEW REGISTRATION - IT DOES NOT SEND CONFIRMATIONS. IF YOUR CARD HAS BEEN CHARGED YOU ARE GOOD TO GO. DEPENDING ON WHAT YOU SELECT WHEN PAYING WITH STRIPE - YOU MAY GET A CONFIRMATION FROM THEM FOR PAYMENT OR YOU MAY NOT. YOU WILL GET TEXT AND EMAIL UPDATES AS WE GET CLOSER***
To sign up for this event a parent must be a currently serving member of the military, this includes the Guard and Reserve. Military service will be verified by local installations for each branch of service. If you are retired or a veteran, you can register for the waitlist. Due to COVID restrcitions and threats of changes, at this time we are only accepting confirmed registrations for currently serving families. Once we have completed a timeframe of registration of active families, we will begin to take families from the waitlist as the occupancy restraints permit.
Once we have closed registration, we will open the signup for time slots. Due to Covid-19 we will be restricted to the number of families we can admit in each time slot. Please do not email asking if you can have a certain timeframe bc of another committment. We cannot hold slots - when it opens it will be first come, first serve. Once you register there are no refunds bc we buy all needed items for the event and gifts based on registration numbers.

Please understand that this is a very popular event and in order to accommodate all interested families, only the service members children are permitted to attend. Verification of dependents will be done at the time of service verification. Only 2 adults are permitted per family - at least one must be a legal guardian of the service member.
COVID -19 PLAN:
All attendees must sign a Covid-19 waiver electronically when registering online and again in person when registering at event check-in the day of the event.
All attendees will be screened for temperatures at check-in. Hand santizer and masks will be provided to use during the event.
All stations will be socially distanced and all stations will be santized between guests.
Character & Santa visits will be socially distanced.
Volunteers will be restricted to one family per station.
All attendees must adhere to state and local COVID-19 guidelines and attendees exhibiting any COVID-19 symptoms will be denied entry.

*IMPORTANT NOTICE:
Not opening the gifts received at the event is not allowed and this will be strictly enforced. This event serves a two fold purpose - to thank our military families for their service with an afternoon of fun and to teach a new generation of younger children the importance of giving to others and respecting military service. Children and their families who volunteer to participate in this event have earned the money to purchase gifts for your children, have hand selected them and wrapped them. Allowing them to see their gifts being opened and the joy they are able to give to another person is a big part of this event and something they look forward to all year. It is more than dropping a toy in a box, volunteer children see the true impact of their efforts and that is a truly unique experience for most children that is incredibly impactful. When you take gifts from the event and do not allow your children to open them at the event, you are taking away that experience for our volunteers.

Attendees will not be permitted to remove gifts from the event that are unopened. If you do not want your child to open gifts at the event, we ask that you please not attend this particular event. Your child must be present at the event to receive any gifts.

YOUR CHILD MUST BE PRESENT AT THE EVENT TO RECEIVE GIFTS. Gifts will not be given for children not in attendance. There will be no exceptions, please do not ask. If your child is unable to attend, please do not sign them up for this event.

If you are struggling with being able to provide Christmas gifts for your children, we have various connections with other organizations that will be able to assist military and veteran families with a demonstrated need. Please contact your Family Readiness Office and they will be happy to assist in making those connections with us. The purpose of this event is not to provide gifts for Christmas morning.
Please visit our Frequently Asked Questions Page For More Detailed Information.