Operation Santa Donation Page
SEEKING CHRISTMAS TREE SPONSORS FOR 2022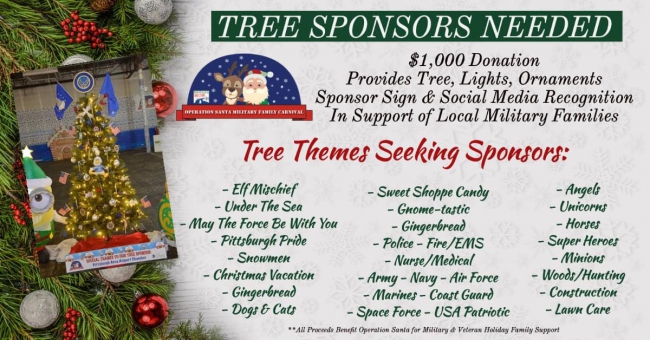 Please contact Kristi Hilbert at kristihilbert@heroessupportingheroes.org.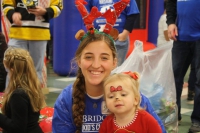 Did you know that over 1,500 local Pittsburgh Service Men & Women will be deployed during the Holidays? Pittsburgh is one of the largest Reserve and National Guard communities in the country, however because we do not have full time active military installations, we also lack the family support systems and organizations that accompany a full time installation. In an effort to offer support to our local military community and their families, 3 Rivers Wealth Management Group's Bridges Kids Club and Heroes Supporting Heroes, have teamed up in coordination with the Family Readiness Offices of all local military installations, to provide a memorable day for our actively serving miitary families in Pittsburgh (including the Guard and Reserve) through our Operation Santa Military Family Carnival.
---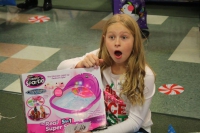 3 Rivers Wealth Management Bridges Kids Club is an all volunteer group of over 500 children ages 4-22 in the local Pittsburgh community that volunteer their time for various service projects throughout the region. The Kid Club Members and their parents must commit to the Kid's Club members earning the funds to contribute minimally to each of their projects throughout the year. For Operation Santa the Kids Club Members volunteer their time to shop for and prepare gifts and then help to run the entire carnival from setup to cleanup. Our goal is to teach a new generation the importance of giving to others and to respect and appreciate those who serve our country and local communities. To learn more about the Bridges Kids Club click HERE.
In 2021, the Bridges Kids Club hosted more than 3,500 active duty & reserve service family members from every branch of service at the annual Operation Santa Carnival. More than 300 volunteers from the Bridges Kids Club participated to purchase gifts and run carnival games. Each year our military attendance grows astronomically.
---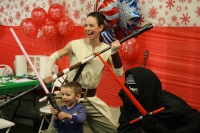 In addition to the carnival, we also provide Holiday gifts and gift cards for food and needed supplies for miitary families in need.
Donations are greatly apprecaited and are utilized for rentals, prizes, food, character & other entertainers, gifts, Santa photos and providing Christmas for those military families in need.