Health & Wellness
Robinson Township Chiropractic Center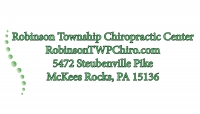 Robinson Township Chiropractic Center is located on Steubenville Pike near I-79 in McKees Rocks. They offer traditional Chiropractic Technique with up-to-date diagnostic information that is required to create a well-rounded treatment plan that is geared towards spinal correction and complete health. Dr. Corey Wonderly treats Children, Adults and the Elderly for all pain complaints and structural deficit. Treatments also include helping patients with wide ranges in complaints from Autoimmune disease to postural stress resulting in discomfort.
Treatments Offered: Chiropractic Manipulation, Electric Stimulation, Ultrasound, Therapeutic Exercise and Spinal Decompression. Having these options allows us to treat the most complicated of cases.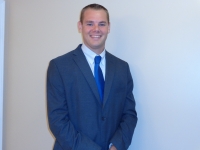 At Robinson Township Chiropractic Center, they appreciate the sacrifices made by our military personnel around the globe. Recognizing that we have one of the largest military presences in the country surrounding their office and they would like to give back to those who give for our freedom and protection. They also understand that currently, Chiropractic Care is largely underutilized due to the lack of coverage through Tricare. However, feel that it is imperative that all of our military maintain the highest level of health possible through Chiropractic Care. Research shows that Chiropractic Care is the most effective form of pain relief compare to all other forms of healthcare. Medications are detrimental to our bodies, in turn, having a negative effect on our overall health.
Robinson Township Chiropractic Center is proud to offer the men and women of our service members and veterans an intitial visit for $25 and a discount on individual ongoing treatment plans.
Contact Robinson Township Chiropractic Center for your appointment today 412-275-3034
Visit Robinson Township Chiropractic Center
---
The Hormone Center

The Hormone Center of Pittsburgh takes an approach that encompasses Integrative Medicine. With offices in South Side, Cranberry and Greensburg, the Hormone Center treats men and woman for:
Do you have a hormone imbalance? "I knew something was wrong. I just didn't know what." - Wendy
According to researchers, the cause of many chronic health problems may be related to hormonal imbalances. Hormonal excesses or deficiencies can cause a myriad of symptoms and health problems, and increase the risk for many diseases. Symptoms of an imbalance include (but are not limited to):
Weight Gain
Headaches/Dizziness/Foggy Thinking
Fatigue
Wrinkly Skin
Acne
Water Retention/Bloating
Loss of Libido (sex drive)
Decrease in Muscle Mass
Irritability/Anxiety
Depression
Mood Swings
Irregular Menstrual Periods
Prostate Problems/Decreased Flow
Thinning Hair . . . to name a few symptoms.
SPECIAL MILITARY OFFER: 15% OFF ALL VISITS & SERVICES
Contact the Hormone Center of Pittsburgh today at 412-432-7909
Visit The Hormone Center of Pittsburgh
---
Are you a health or wellness provider that wants to support our local military community?
Contact us today to find out more about becoming an official HSN Partner.